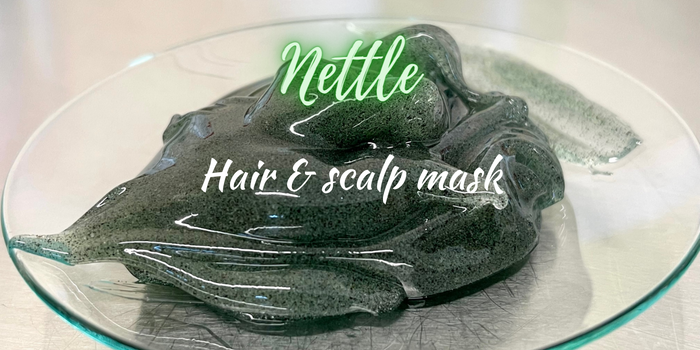 I am sure you have enjoyed Andry's last post and report about her nettle extract in squalane.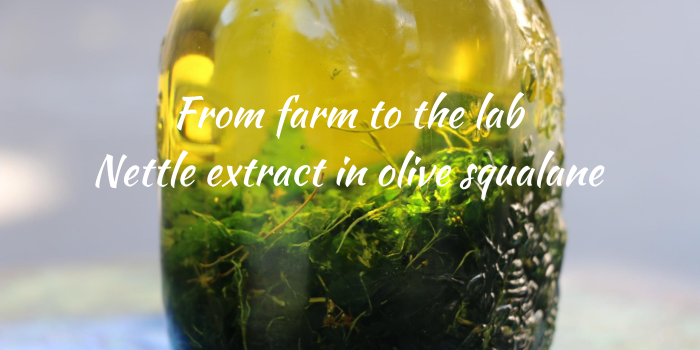 In today's post she generously shares her formulation for this beautiful hair and scalp mask and exfoliant she has made with that extract and shares her thoughts and background reason for making the mask in the first place.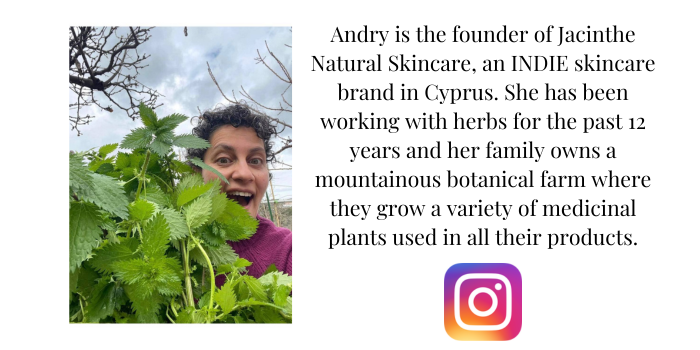 Nettle hair & scalp mask
Gentle scalp exfoliating products are quite popular, however, I wanted to formulate a product that would exfoliate the scalp and nourish as a mask at the same time. The third point on this list was further explored after taking into account the benefits offered by Magnesium and Iron present in the stinging nettle extract. Since these minerals boost circulation on the scalp, the exfoliating particles would complement them by removing dead skin cells from the surface of the scalp and allow the hair roots to absorb the extract more easily via massaging of the mask. We have a teen customer who suffers from severe keratosis on her scalp and her mother was highly impressed after using this hair mask that 'removed all the skin and chunky white bits from her scalp and reduced itchiness almost completely' as she remarked.
The following ingredients were used and justifications are provided for their selection:
*Sapogel Q and Vegetable Glycerin: they are both wonderful ingredients in hair masks that nourish the hair strand and add a silky shiny look to hair.
* Stinging Nettle extract in Squalane: to enhance the formula with the addition of the three minerals referred to above, namely, Iron, Magnesium and Zinc;
*Amla fruit oil: Amla oil or Amla extracted in sunflower oil, is a traditional oil used in Ayurveda to boost hair growth. It is the star ingredient you will often come across in the popular Indian hair treatments known as 'hair oiling' that are now also widely popular in western cultures too
*Organic Shea butter: Shea butter soothes dry and itchy scalp and moisturizes and softens hair. It works wonderfully paired with Sapogel Q and Glycerin in terms of adding a shiny look to hair and moisturizing the hair shaft deeply.
*Emogreen C69: A must-have oil for treating hair. Seppic characterizes it as 'the new must have in hair care' that is a natural alternative to silicone oils produced from traceable palm oil. Its soft after feel combined with Shea butter, Sapogel, Glycerin and Amla oil is second to none.
*Volcanic Sand: Icelandic lava sand is the perfect size (grade 300) exfoliant that gently exfoliates the scalp without damaging hair roots. Volcanic sand is naturally high in silica, copper, selenium and manganese that promotes scalp health, hair strength and growth, it eliminates dandruff and dead skin cells around hair roots.
*Blue Pigment: to add a green note to the product. Our oil nettle extraction is yellow (when nettle is extracted in water it's greenish blue) and the addition of the blue pigment resulted in a soft green hue (see photo).
*Organic tea tree oil: used to soothe irritated scalp and reduce skin flaking, offer antiseptic properties and at higher percentages proved to treat dandruff and itchiness1.
*Organic Fenugreek CO2: A very nourishing extract that is also highly valued in Ayurveda for its anti-hair loss properties.
*Organic Rosemary CO2: Rosemary has a long history in Ancient Greece as the herb that oxygenates the brain, enhances circulation in the scalp and encourages hair growth. You will often find it as the main ingredient in anti-hair loss products
*Organic Clove CO2: it is a nourishing and conditioning oil for scalp and hair. It is believed to strengthen hair and add volume. In Ayurveda it is often used in combination with Amla oil to promote blood circulation and stimulate hair growth.
*NoKons preservative: The hair mask is quite viscous and packaged in an open jar. The application of this Sapogel mask is easier when hair is wet so damp fingers will naturally come into contact with the mask. For this reason, NoKons was used to preserve the mask.

Reference:
https://pubmed.ncbi.nlm.nih.gov/12451368/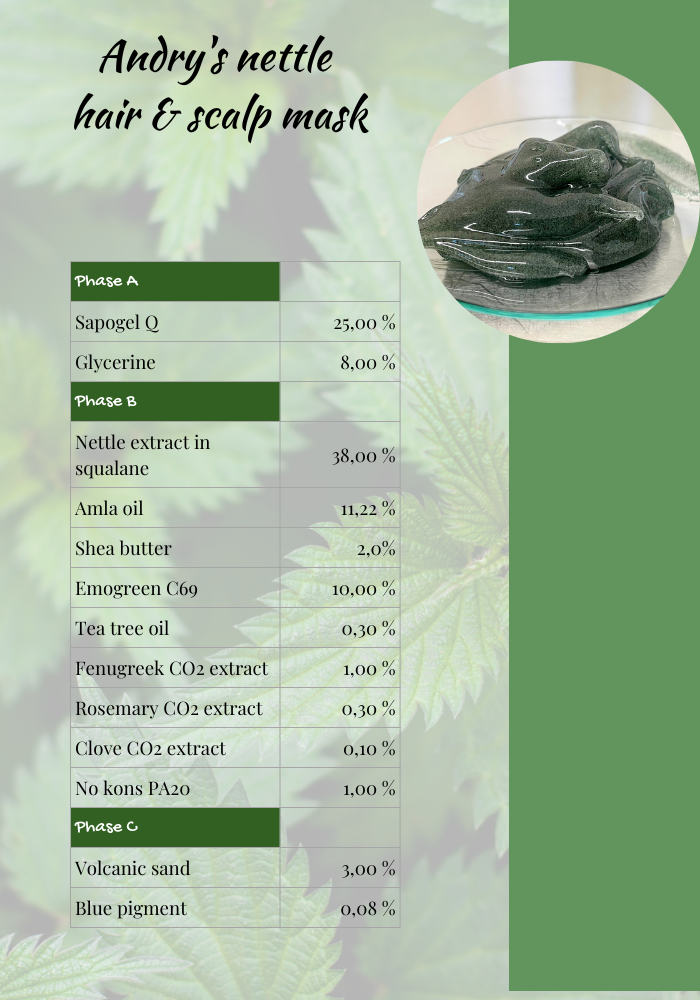 Procedure:
1-Pour Sapogel Q into a beaker and start stirring slowly.
2-Slowly begin to add the glycerin and increase speed of the stirrer.
3- Gently heat the shea butter + emogreen C69 @30C until shea butter is melted. Add this blend to the rest of the phase B
4-Very slowly incorporate Phase B into Phase A whilst stirrer is working. If you are working in a very cold laboratory you may need to keep the beaker containing phase B in a water bath around 25-30 C
5-Mix Phase C ingredients into a beaker.
6-Slowly using a sieve incorporate Phase C into Phases A and B.