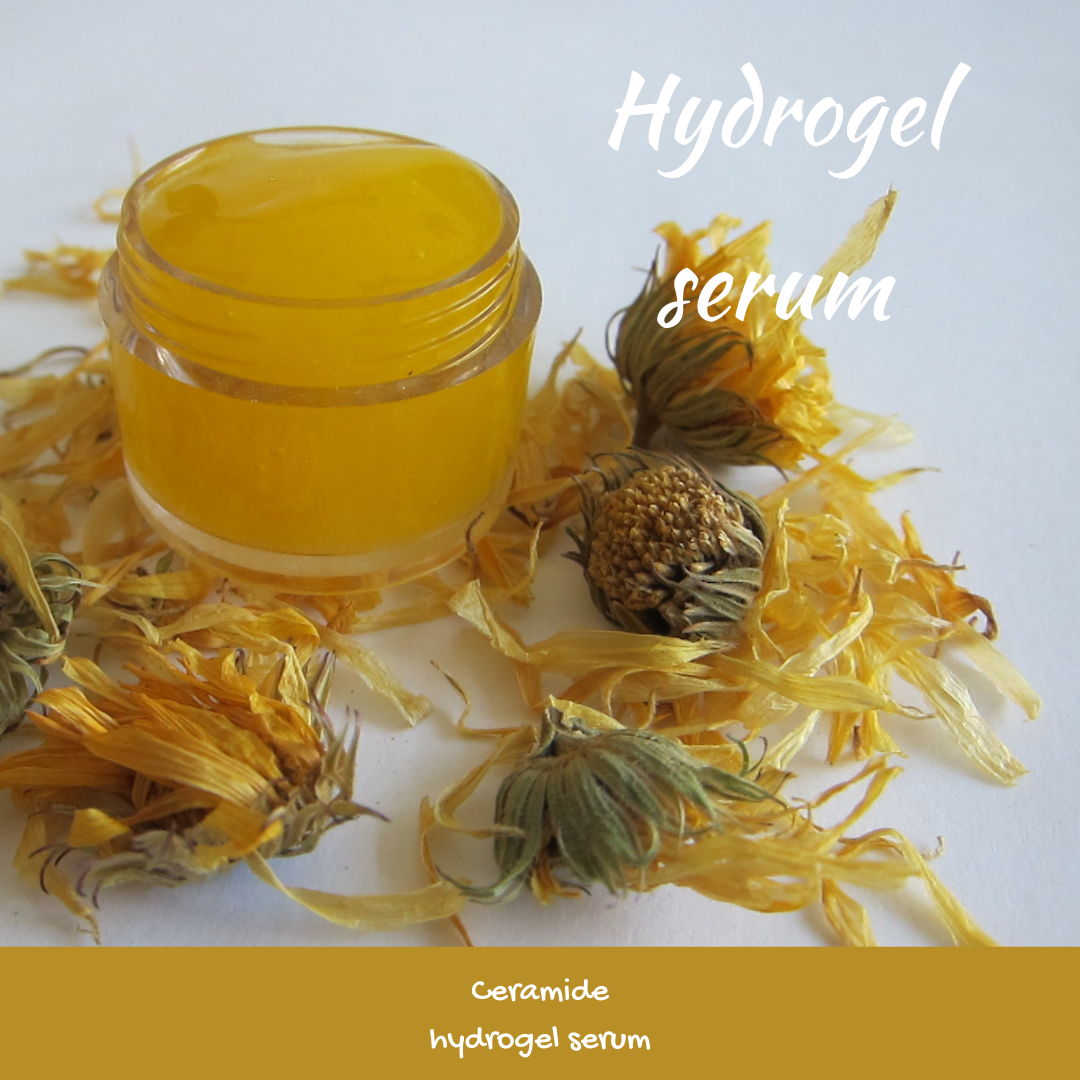 I love formulating and using hydrogels. They are fascinating in making and quite pleasant in using. You can apply them day and night under your day/night cream or your suncare or during hot and humid days could be used as a standalone skin food. They are specifically handy when you travel because they allow you to take just one item instead of 5 different creams and lotions in your cosmetic bag.
Anyway we have shared a lot of hydrogel formulations during the past and today I am sharing this beautiful and brilliant one with the ceramide and the gotu kola extract.
What are hydrogels at all?
Well hydrogels are water based gels. There is a technical/physical difference between a high viscosity liquid and a gel but the difference is very technical and beyond the scope of this tutorial. This formulation is actually and technically not a gel but a high viscosity serum/moisturizer. Now you can create hydrogels with a variety of gums and viscosity modifiers but my two most poular ingredients for creating hydrogels are:
They not only create stable gel-like texture with a pleasant skin feel, they allow you to pack a few lipophilic active ingredients in the formulation without the need for any additional emulsifier. Ecogel is actually an emulsifier itself but you still can use it in one phase formulations or as in some hydrogels in water based formulations with a low oil content. Sclerotium is a gum and not an emulsifier but has the magnificent ability to create a network that can keep low contents of oils in a water based matrix.
For this beautiful hydrogel my goal was an anti-inflammatory, soothing and anti-redness formulation. So I used the calendula hydrosol. I kept the formulation as simple as possible and used some essential functional ingredients:
Aquaxyl for its outstanding moisturizing properties and for the ease of application
D-Panthenol for its moisturizing and healing properties
Gota kola extract for its instant soothing anti-inflammatory properties
alpha-bisabolol for its anti-inflammatory properties
Buriti oil provides the skin with just a little bit of fat but its main role is for the beautiful color
Liquid ceramide NP for its barriere protection properties
Olive squalane for its barriere protection and emolliency
We used mandarine red essential oil which matches the color, is an uplifting and extremely skin friendly oil. If you decide to use other essential oils stay by skin friendly and non-sanitizing oils if you are formulating for compromised skin.
Amigum needs some heat and time for hydration. You certainly can use it cold but you are wasting a great part of its potential. Many moons ago we published a post about working with sclerotium and we demonstrated the difference between warm and cold dispersion.
As always I recommend that you start with a very simple and basic formulation and then build up on that after you are satisfied with the results.
If I were to (and I will in the near future) make this serum more elaborate I would have added the prebiotic, at least one hyaluron and perhaps some vit C to the formulation but let's just keep it simple for now. Adding any single ingredient to the base formulation needs a time consuming study of the stability, specially the photostability of the formulation. The more complicated the formulation, the more time consuming the tests and the more difficult to put your finger on a culprit when something goes wrong.
Testing the photostability of this formulation took us a long time. We published a blog post about photostability in our member's area last week and I highly recommend you go and read that post if you work a lot with colorful plant oils and extracts.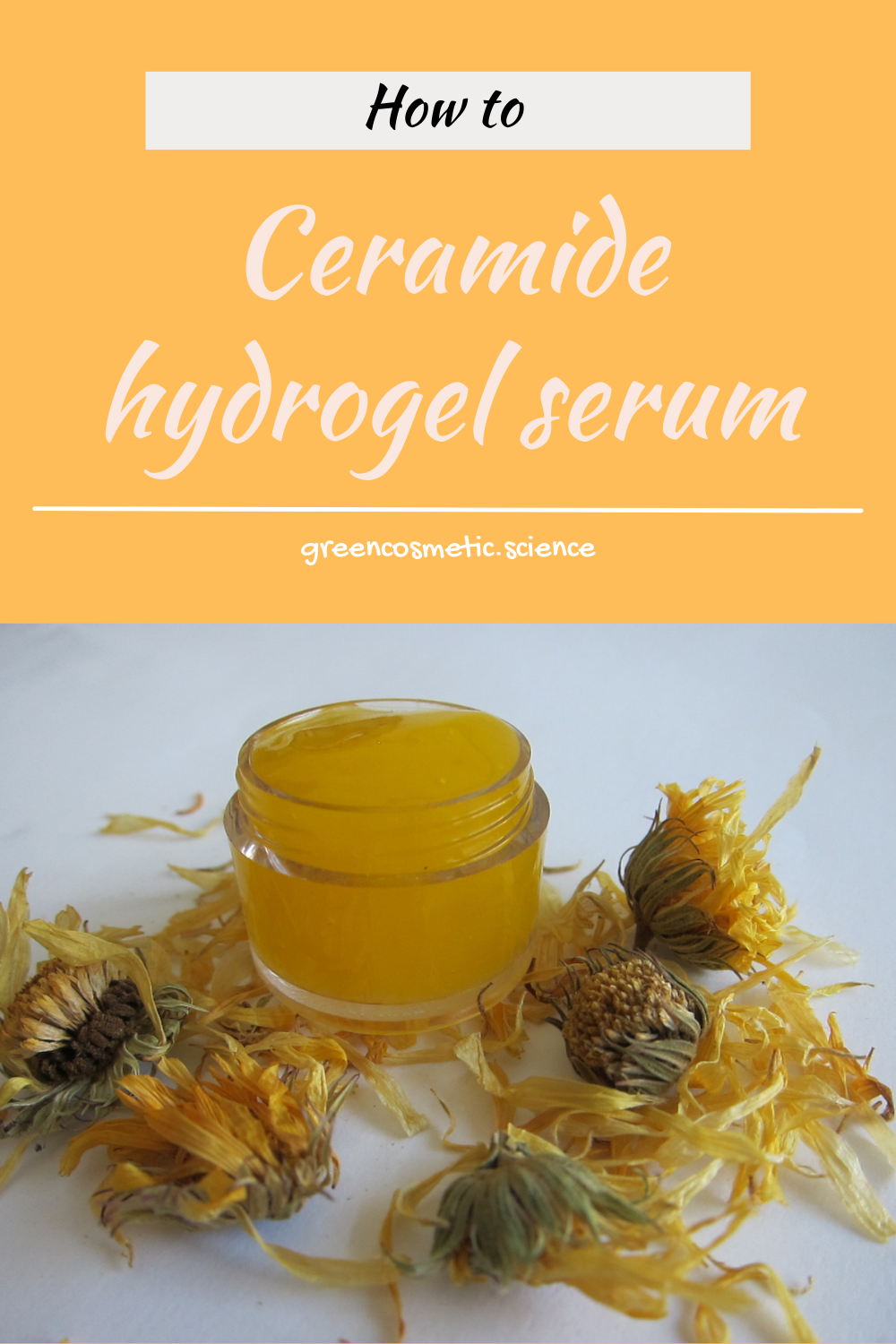 Now that I have explaine everything about the formulation let's jump to the practical part.
Formulation:
| Phase A | Dosage |
| --- | --- |
| Calendula hydrosol | to 100,0% |
| Na-lactate | 2,0% |
| Aquaxyl | 2,0% |
| D-Panthenol | 0,5% |
| L-Arginin | 0,1% |
| Chelator PA3 | 0,1% |
| Na-gluconate | 0,1% |
| Phase B | |
| Amigum | 1,4% |
| Phase C | |
| Gotu kola extract | 1,0% |
| Phase D | |
| Buriti oil | 1,0% |
| Olive squalane | 1,0% |
| Fluid ceramide NP | 1,0% |
| Tocopherol | 0,3% |
| alpha-bisabolol | 0,2% |
| Mandarine red oil | 1,0% |
| No-kons preservative PA-20 | 1,0% |
| Phase E | |
| Lactic acid | to adjust the pH |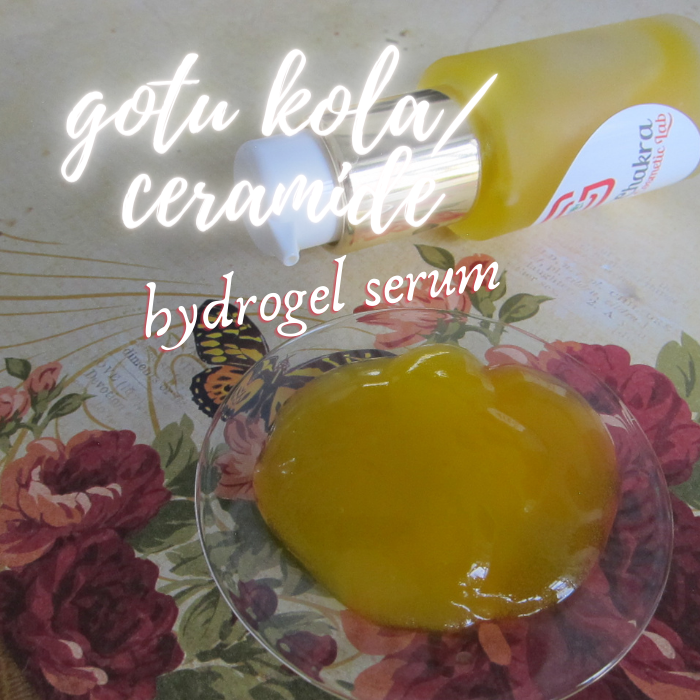 Procedure:
1- Blend phase A and D in separate beakers
2- Heat phase A between 40-45 C. Disperse the gum and let it hydrate at this temperature for 30-40 minutes.
3- Stop heating and after a while add the gotu kola extract
4- Add phase D and blend completely. The preservative we are using works independent of the pH and we can add it without measuring the pH before. However since we are using a preserved hydrosol and we know that its pH is lower than 5, we add some arginine at the beginning to the water phase to increase the pH so that our other ingredients remain stable and effective.
💡
If you are struggling with pH measurement and adjustment and are confused by all those increasing and reducing steps we have just the
right course
for you.
5- Now prepare a 10% dilution and measure the pH. In our case it was 5,97
6- Add lactic acid to reduce the pH. Prepare another 10% dilution and remeasure the pH. We aim for a pH between 4,8-5,5 and in our case it was 5,38
7- Take your stablity and micro kit samples and fill the rest in a suitable container
Download the printable file of the formulation and procedure here.
You can watch the video here