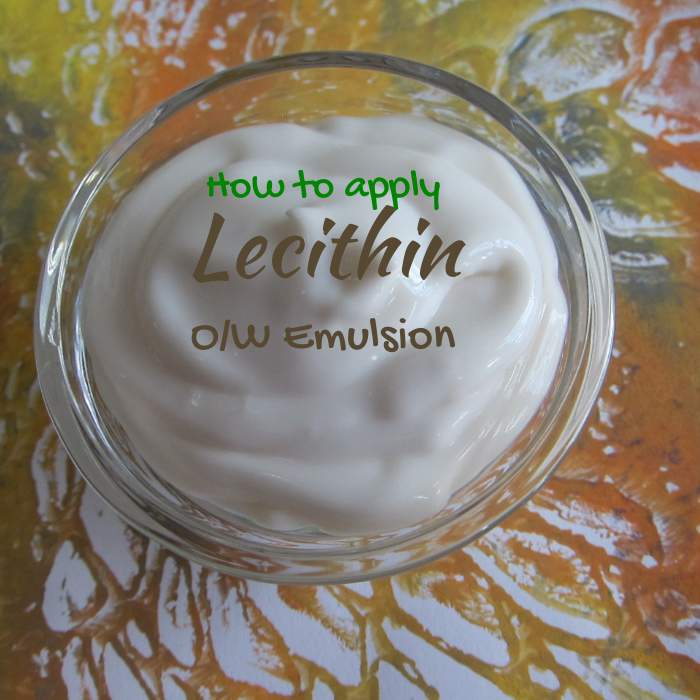 Lecithin is an amazing natural ingredient in skin care, nutrition and pharmacy. It is actually a generic name for a group of lipophilic ingredients containing fatty acids, sterols, triglycerides, glycolipids and phospholipids. Lecithins are found in plant and animal tissues and depending on the tissue and the origin the composition of the lecithin may be different. Lecithin was first isolated from the egg yolk by a 19th century French chemist.
Because of its unique structure and composition, it is now used as a dietary supplement, in pharmaceuticals and mostly in skin care and topical drugs. It is a penetration enhancer and accelerates penetration of active ingredients and drug components, it is an amollient and a barriere enhancer.
The following chart depicts the lecithin content of various plants.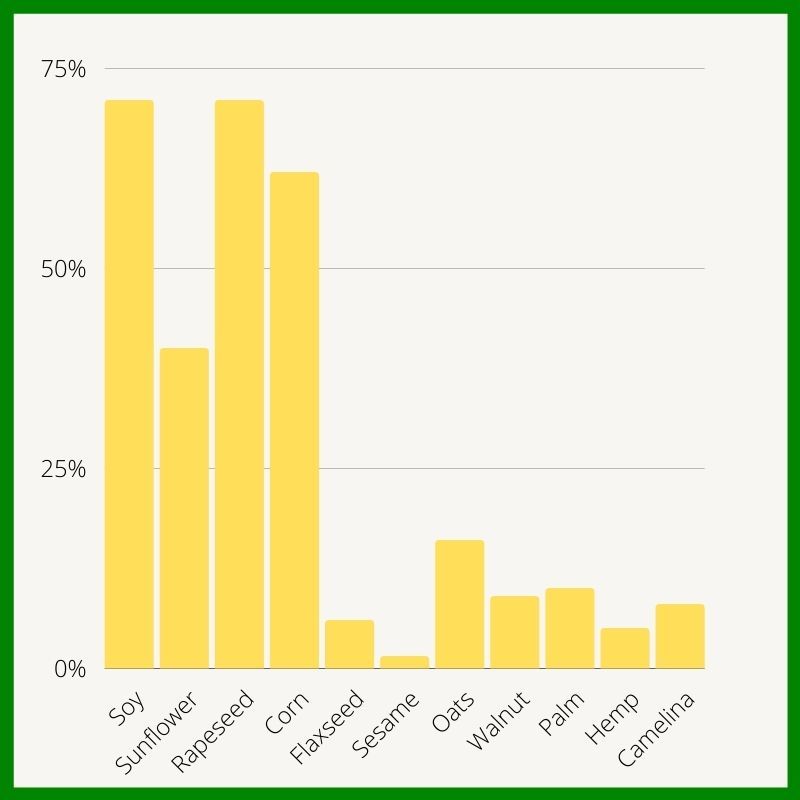 Soy bean, sunflower and rapeseed are the main sources of commercially available lecithin. Lecithins from different sources differ mainly in the components of the glycerophospholipids. There are 6 phospholipids:
Phosphatidic acid, Phosphatidylcholine (PC), Phosphatidylethanolamine (PE), Phosphatidylinositol (PI), Phosphatidylserine (PS) and phosphatidylglycerol (PG).
The following chart depicts the difference in glycerophospholipid content of some plant oils.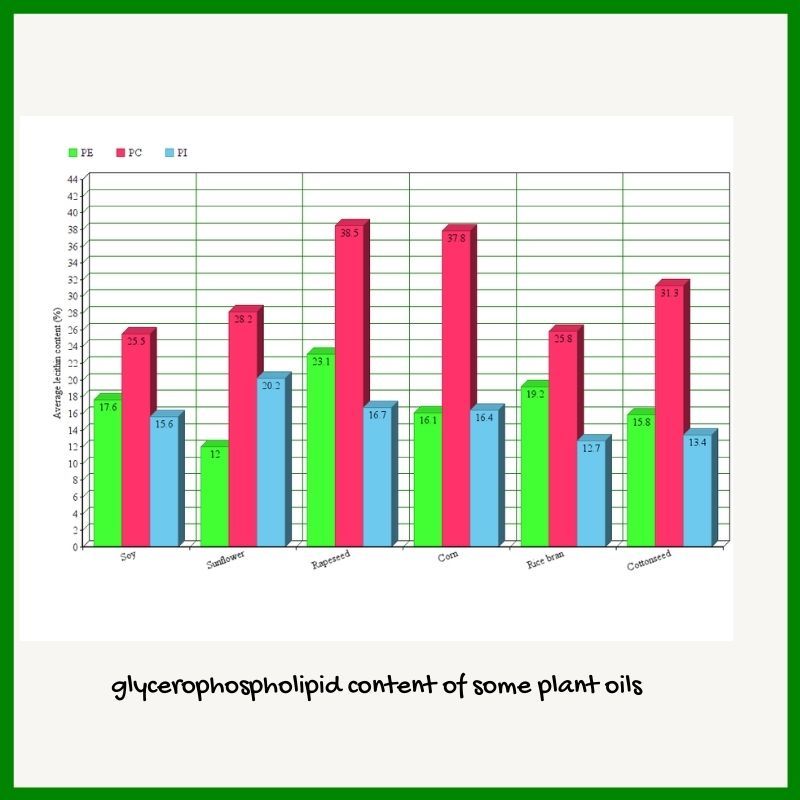 Lecithin has been used as a W/O emulsifier for a very long time. There are more hydrophilic versions of lecithin available now which are obtained by hydrolysing lecithin. These are basically calles lysolecithins and are used as an O/W emulsifier.
We do have a lysolecithin in our shop and have already published a few sample formulations with it. The popular ecogel which is both an emulsifier and a stabilizer contains lysolecithin as well. Both lysolecithin and ecogel are much more expensive than the native lecithins. Working with lecithin as a W/O emulsifier is quite a hassle and the outcomes are usually not that amazing. It is rather difficult to create stable emulsions and the process is very heat sensitive. To be honest, I personally never liked W/O emulsions made with lecithin although this is one of my favorite ingredients. There are enough attractive and easy to work W/O emulsifiers available these days that work cold or hot process with amazing outcomes in terms of stability and skin feel.
I do like the presence of the lecithin in hair and bodycare products however and I have used it in hundreds of balms, deodorants and other waterless formulations or bar products (with a low water content). In today's tutorial however we are using our sunflower lecithin as an emollient in an O/W emulsion.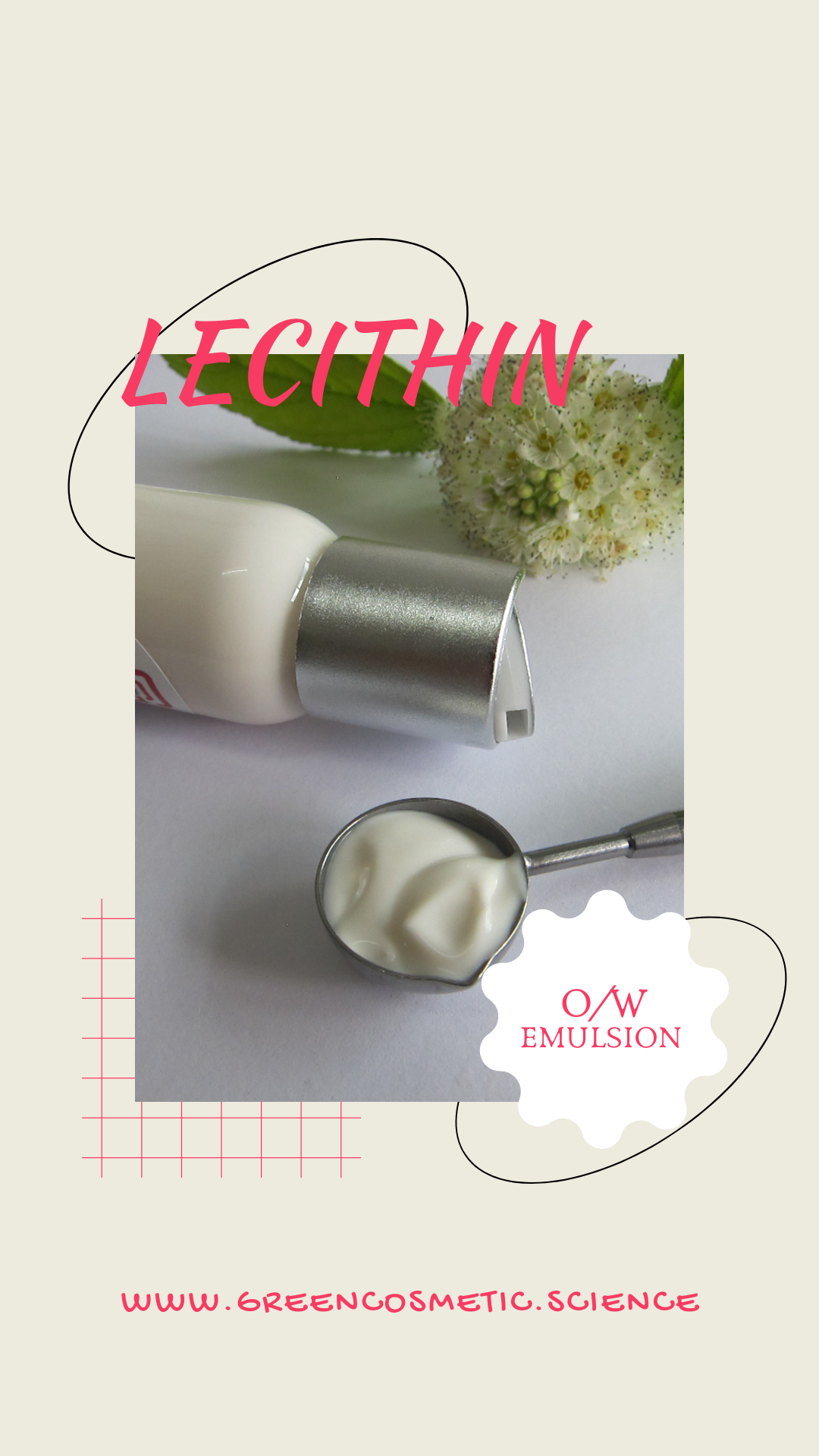 I have had several inquiries in the past from customers and readers that they couldn't create stable emulsions with lecithin. The trick is that lecithin is an amphiphilic ingredient and doesn't respect your intention not-to-use-it as an emulsifier. When you add it to the oil phase of an O/W emulsifier, it meddles with the emulsifier and brings everything to chaos and instability. If you apply it after the emulsification it can not meddle with the emulsifier and does what you intend and remains as a tame emollient and skin feel enhancer. We have so far prepared stable emulsions with 0,5 and 1,0% sunflower lecithin and I think that is absolutely enough to use at this concentration.
In today's tutorial we are making an emulsion with 1,0% sunflower lecithin in a rather simple emulsion and this is what I recommend you to do if you have little experience with lecithin or are not happy with your experience so far. You can later expand your formulation or increase the content of the lecithin when you are satisfied with your first results.
Phase A
Dosage
Distilled or deionized water
to 100,0%
Aquaxyl
3,0%
Chelator PA3
0,1%
Na-citrate
0,5%
Phase B
Natural emulsifier GSC POF
5,0%
Marula oil
19,0%
Tocopherol
0,3%
Phase C
Solagum AX
0,3%
Tara gum
0,1%
Phase D
Sunflower lecithin
1,0%
Phase E
D-panthenol
1,0%
Na-lactate
2,5%
Phase E
no-Kons PA20
1,0%
Lemon zest oil
1,0%
Lactic acid
to adjust the pH
Procedure:
1- Blend phase A and C in separate heat-proof beakers
2-  Heat phase A and B in a water bath between 82-85 C
3- Emulsify the oil phase in the water phase
4- Disperse the gum blend in the still hot emulsion
5- Add the lecithin after the gum phase in the still warm emulsion
6- Start cooling down while stirring
7- When the temperature reaches under 50 C add the sensitive phases (Phase E)
8- When the emulsion reaches the room temperature prepare a 10% dilution and measure the pH. In our case it was 6,58.
9- Reduce the pH by adding lactic acid. If you are making this formulation for the first time add the lactic acid gradually and measure the pH in between.
10- Add the preservative system and the essential oils. The preservative system works independent of the pH and you can add it after you have mesured the pH for a second time
11- Prepare another dilution of the emulsion and measure the pH. In our case it was 5,46. We are aiming for a pH between 4,9-5,5.
12- Take the stability and micro kit samples and fill the rest in a suitable container
You can watch the video here