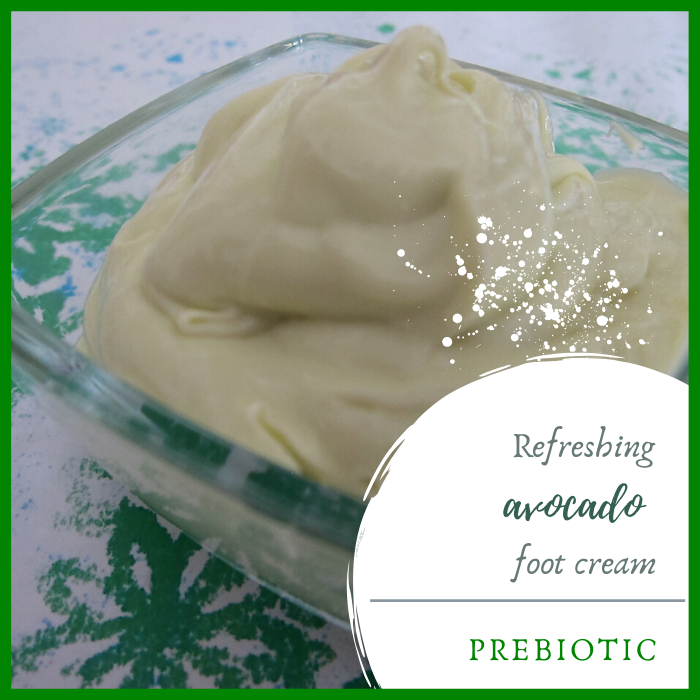 Avocado oil is one of my all-time favorites and I love using it in scalp to toe products.
With summer at the corner and the weather getting warmer and warmer (in the Northern hemisphere obviously), our outdoor activities increase as well: biking, walking, running, hiking, roller skating, you name it. All those activities challenge feet and legs muscles and nothing could be more rewarding than a refreshing and regenerative massage with a rich (but non-greasy) cream afterwards.
This almost KISS cream contains avocado oil as the main lipid. As with most of our formulations, we have applied the prebiotic to pamper and feed the skin microbiome after all those activities and sweating and washing. Rice starch is used to impart a powdery and dry skin feel despite the high content of the lipid phase. Panthenol, allantoin and Na-lactate are used as moisturizers (the skin still needs hydration even during the hot summer days).
Formulation:
Phase A
Dosage
Distilled or deionized water
to 100,0%
Aquaxyl
3,0%
Chelator PA3
0,1%
L-Arginine
0,1%
Phase B
Polyaquol 2W
5,0%
Avocado oil
17,0%
Olive squalane
3,0%
Modified rice starch
3,0%
Tocopherol
0,3%
Phase C
Solagum AX
0,3%
Tara gum
0,1%
Phase D
D-panthenol
1,5%
Na-lactate
2,5%
Skin prebiotic
3,0%
Allantoin
0,1%
Phase E
no-Kons PA20
1,0%
Peppermint oil
0,7%
Petitgrain oil
0,3%
Lactic acid
to adjust the pH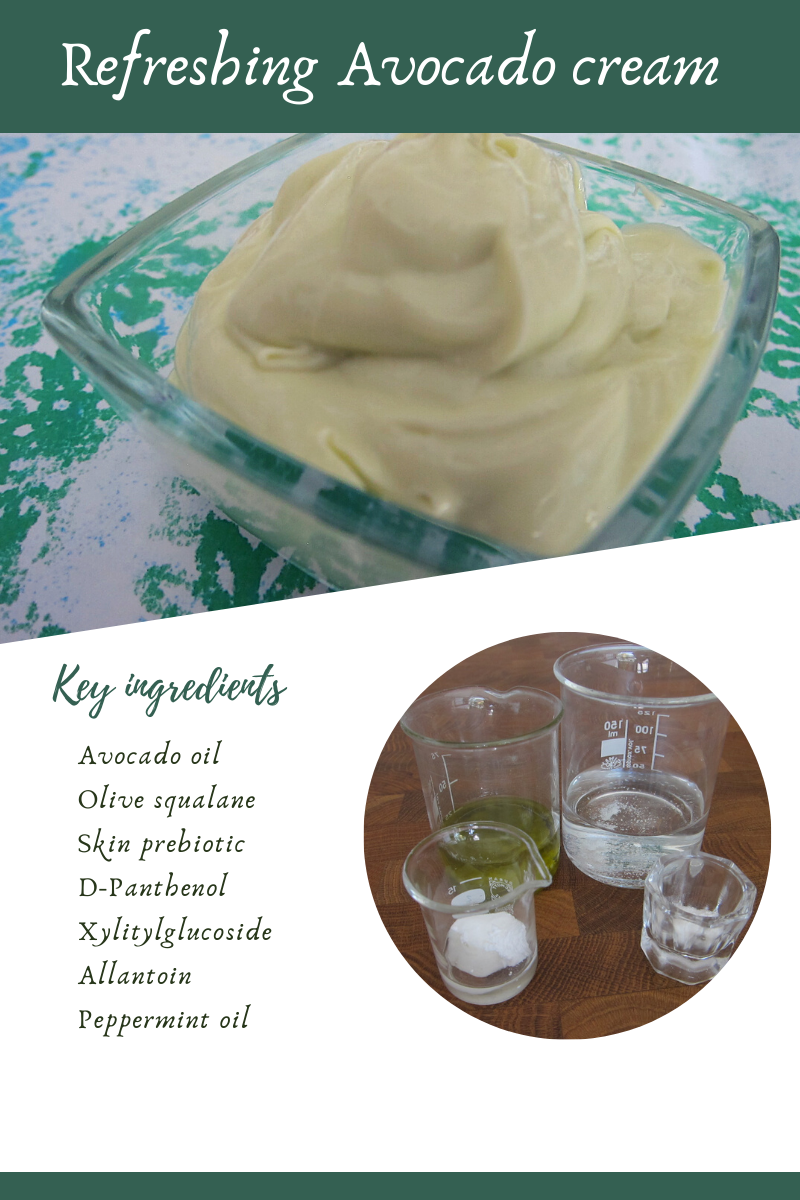 Procedure:
1- Blend phase A and B in separate heat-proof beakers
2-  Heat phase A and B in a water bath between 82-85 C. The starch doesn't dissolve in the oil phase. It only must be uniformly dispersed
3- Emulsify the oil phase in the water phase
4- Disperse the gum blend in the still hot emulsion
5- Start cooling down while stirring
6- When the temperature reaches under 50 C add the sensitive phases (Phase D). Phase D is like a thick paste at this stage but don't worry. The Stirrer takes care of the dispersion
7-  When the emulsion reaches the room temperature prepare a 10% dilution and measure the pH. In our case it was 7,03.
8- Reduce the pH by adding lactic acid. If you are making this formulation for the first time add the lactic acid gradually and measure the pH in between.
9- Add the preservative system and the essential oils. The preservative system works independent of the pH
10- Prepare another dilution of the emulsion and measure the pH. In our case it was 5,43. We are aiming for a pH between 4,9-5,5.
11- Take the stability and micro kit samples and fill the rest in a suitable container
You can watch the video here
Stay safe and creative