Who doesn't need a soothing and anti-inflammatory cream every now and then? Sometimes it's the face that needs additional pampering after extreme exposure to sun (or wind and dry weather) sometimes the hands need some extra care and sometimes the feet. According to a recent study, generally 71% of the adults are known to suffer under sensitive skin with some 40% suffering under "very sensitive" skin (these are all pre-Covid data and before we started wearing masks and washing and sanitizing our hands more than usual).
In this tutorial I am sharing a cream I made out of desperation for a friend who was suffering under an eczema rash and was doomed to use a prescription cortisone containing cream. Well, as always, cosmetics shall not heal and we don't raise and claim that this cream will heal but it will at least keep the inflammation and redness and itching at bay and help the patient reduce the consumption of the cortisone.
The formulation might seem very intimidating in terms of the number of ingredients and phases but every single ingredient here has a certain purpose and we used it for a certain reason. You can simplify the oil phase by using just one triglyceride and the olive squalane and drop the triheptanoin and the emogreen C69. These two do not have any therapeutic or skin pampering function (except their very nice skin feel and their heat and oxidation stability).
The procedure is rather straightforward. Our pH at the end was 4,97 and that was perfectly in range (4,9-5,5) for us. If you tweak the formulation you may land on another pH and may need to increase or decrease the pH.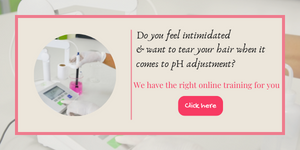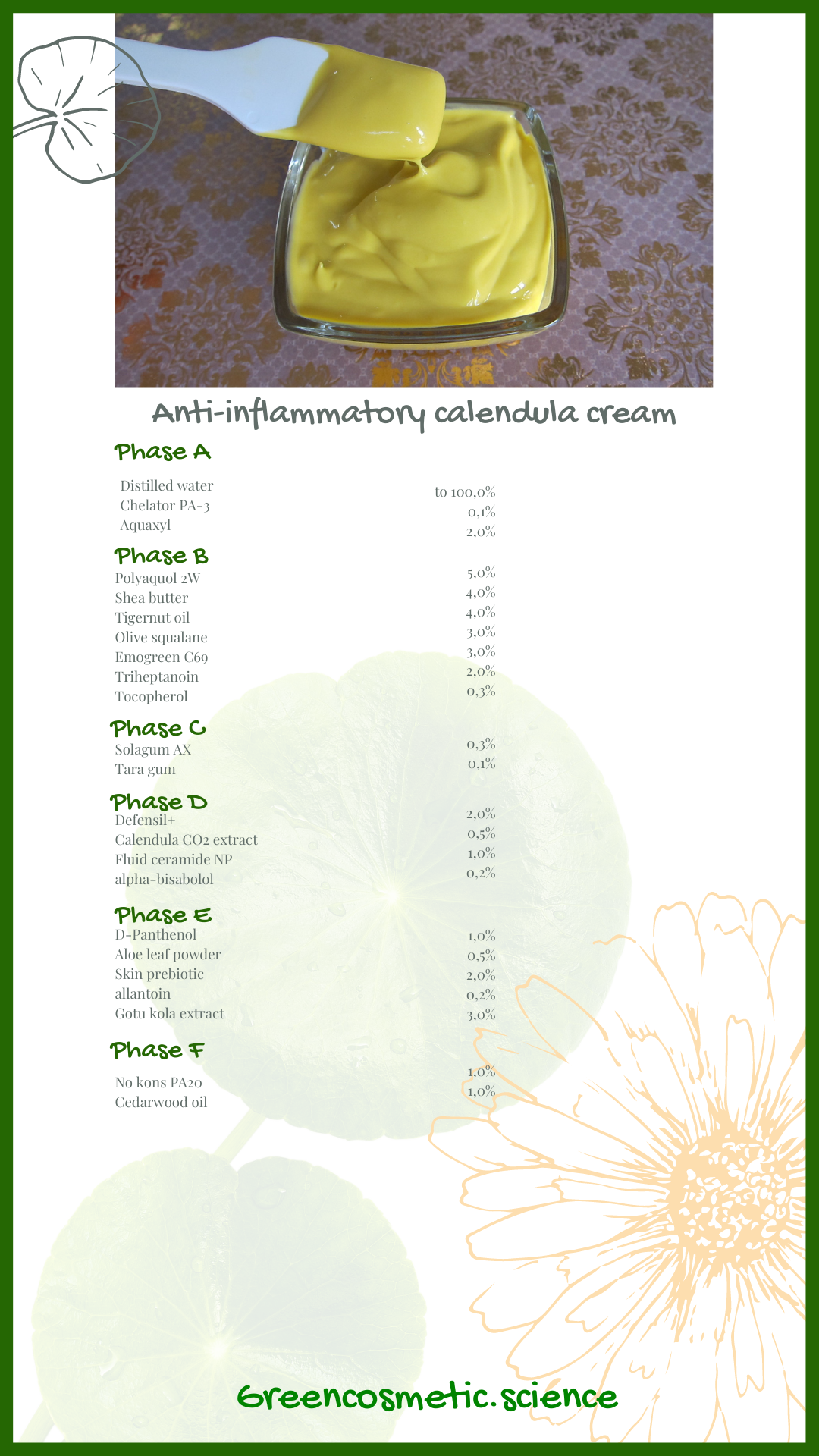 Formulation:
Phase A
Dosage
Distilled or deionized water
to 100,0%
Aquaxyl
2,0%
Chelator PA3
0,1%
Phase B
Polyaquol 2W
5,0%
Tigernut oil
4,0%
Shea butter
4,0%
Olive squalane
3,0%
Emogreen C69
3,0%
Triheptanoin
2,0%
Tocopherol
0,3%
Phase C
Solagum AX
0,3%
Tara gum
0,1%
Phase D
Defensil+
2,0%
Fluid ceramide NP
1,0%
Calendula CO2 extract
0,5%
Alpha-bisabolol
0,2%
Phase E
D-panthenol
1,0%
Aloe leaf powder
0,5%
Skin prebiotic
2,0%
Allantoin
0,2%
Phase F
no-Kons PA20
1,0%
Cedar wood oil
1,0%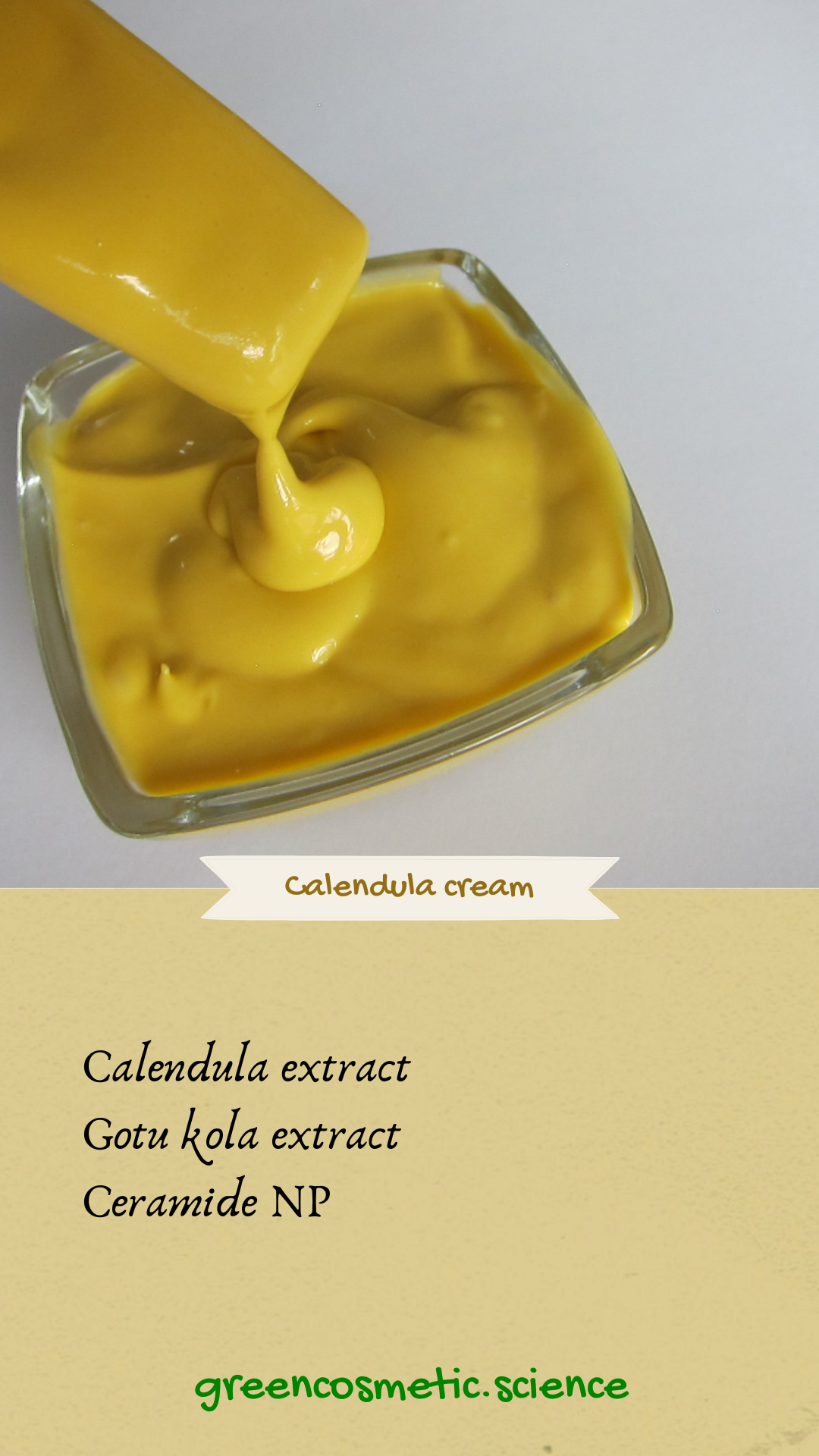 Procedure:
1- Blend phase A and B in separate heat-proof beakers
2-  Heat phase A and B in a water bath between 82-85 C
3- Emulsify the oil phase in the water phase
4- Disperse the gum blend in the still hot emulsion
5- Start cooling down while stirring
6- When the temperature reaches between 40- 50 C add Phase D
7- When the emulsion reaches <35 C add phase E and then the preservative system and the essential oils. The preservative system works independent of the pH
8- When the emulsion reaches the room temperature prepare a 10% dilution and measure the pH. In our case it was 4,97 and we didn't add anything to change the pH.
9- Take the stability and micro kit samples and fill the rest in a suitable container