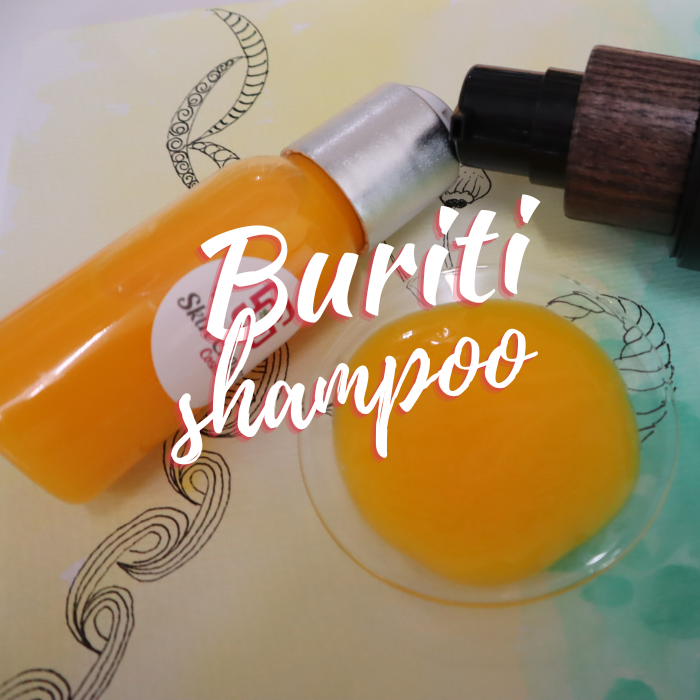 Who can resist this sunshine in a bottle?
You really do not need to use this shampoo only for bleached hair but buriti oil has proven to bring magic to dull, damaged and bleached hair. If you like the colour (who can not like it) use it for normal hair as well. This is a very basic, no B.S. formulation that you can jazz up according to your concept and specific hair type that you want to formulate for.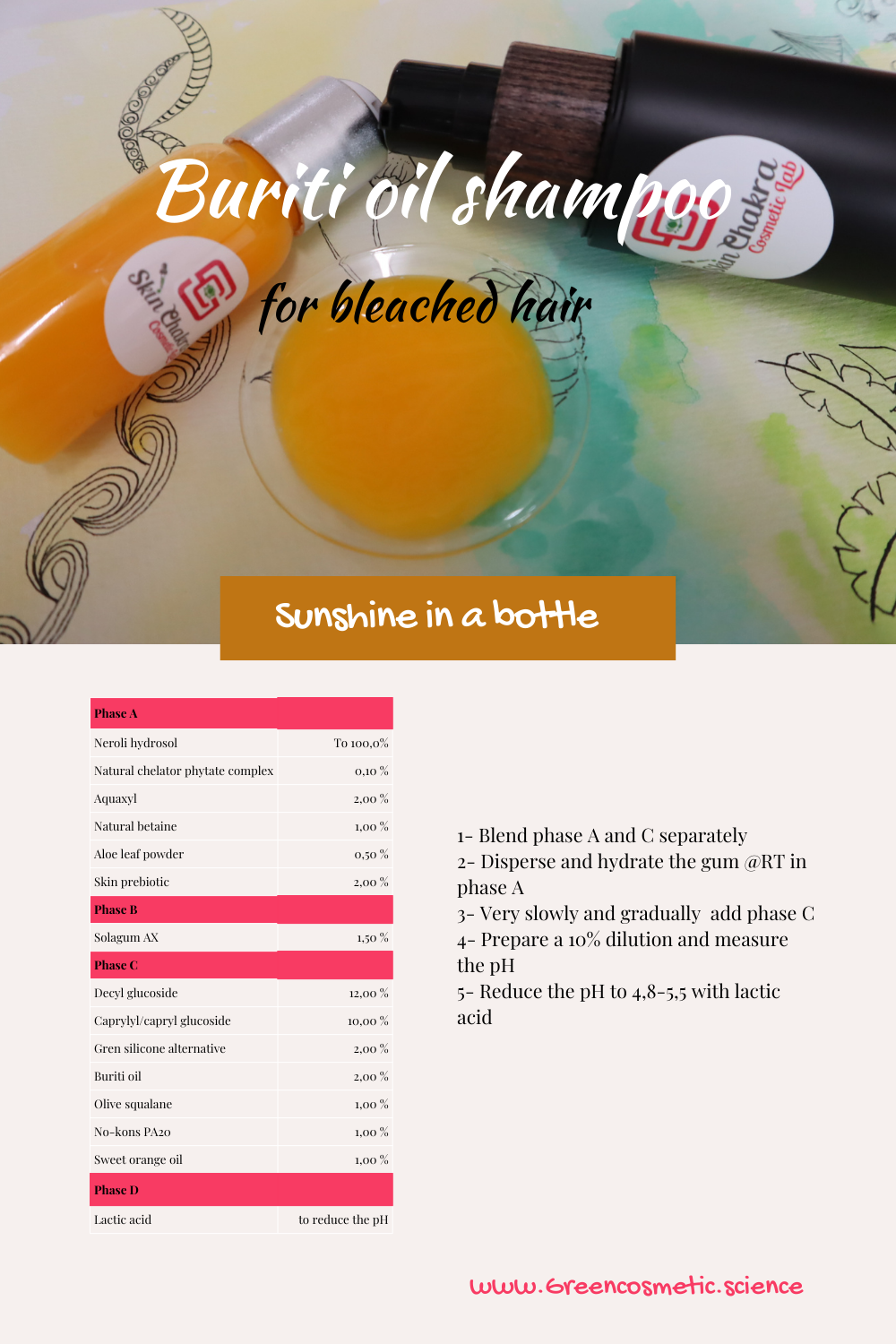 The procedure is very straightforward. You simply blend the water phase @RT. Then disperse and hydrate the gum @RT. We are using the solagum AX which doesn't need any heat for full hydration. Then the time consuming part starts.
It is not difficult but needs patience
In a manufacturing plant the mixers are equipped with a vacuum pump or a deareation system. They can blend surfactants like hell but at the end they will deareate the mixer and there will be no bubbles and foam in the product. If you have such a mixer or can afford a big centrifuge or another deareation system then go on as you like but:
in an artisanal workshop it is mandatory to slowly and gently blend the surfactant phase and then add this very very very slooooooowly to the water/gum phase. If you don't follow this rule you will end up with an ugly product with a huge layer of foam on top of an ugly watery thing that will separate within a few days.
You can watch in the video how slowly Swetti adds the surfactant phase to the water phase and you can see how smooth the product is immediately after we have made it. No vacuum pump, no centrifuge or any other trick is used here.
Here we go.
Ingredients: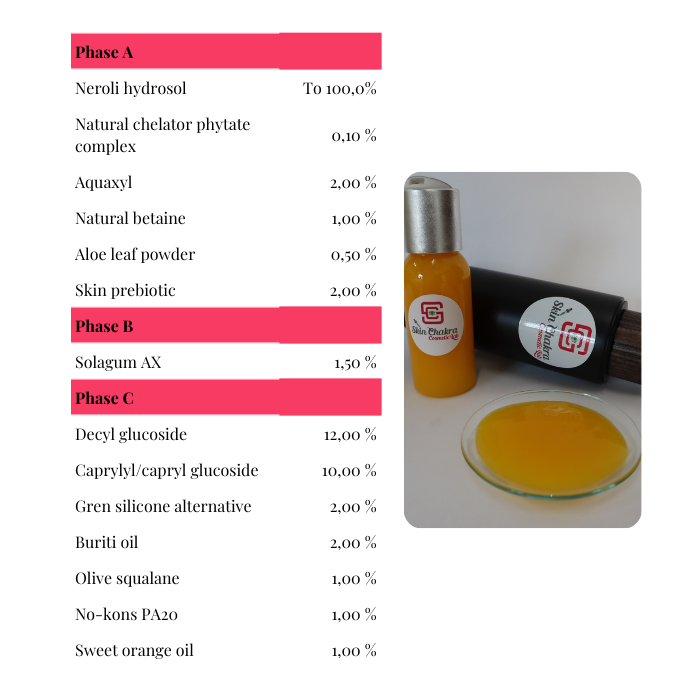 Procedure:
1- Blend phase A and C separately
2- Disperse and hydrate the gum @RT in phase A
3- Very slowly and gradually  add phase C
4- Prepare a 10% dilution and measure the pH. It was 6,35 in our case. We are using a preserved hydrosol with a low pH here. If you are using water or another carrier with a neutral pH you may end up with a much higher pH and you can add some lactic acid at the beginning to your water phase.
If you are overwhelmed by all this ups and downs of pH measurement and adjustment we have the right course for you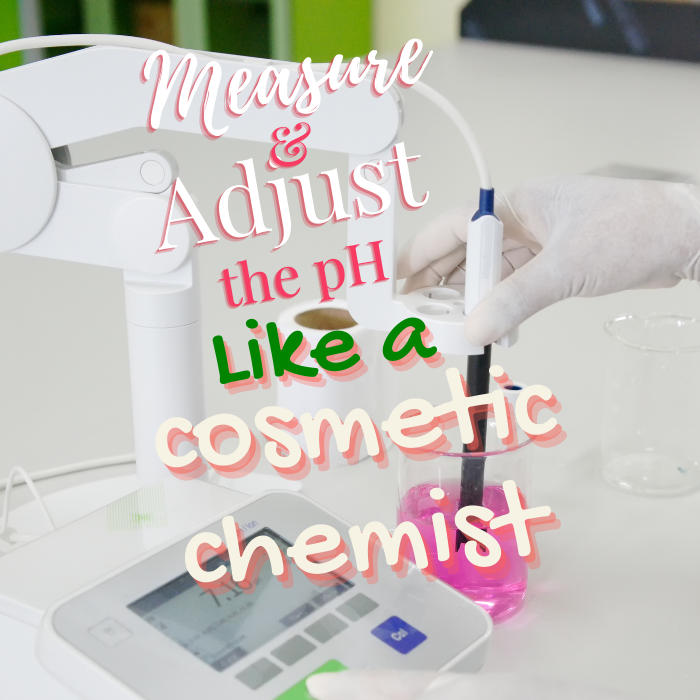 5- Reduce the pH to 4,8-5,5 with lactic acid
6- Take your stability and micro kit samples and fill the rest in suitable bottles.
We have collected 6 hair care formulations specifically created for bleached and damaged hair in this ebook which you can order from our shop (as always 20% discount for members)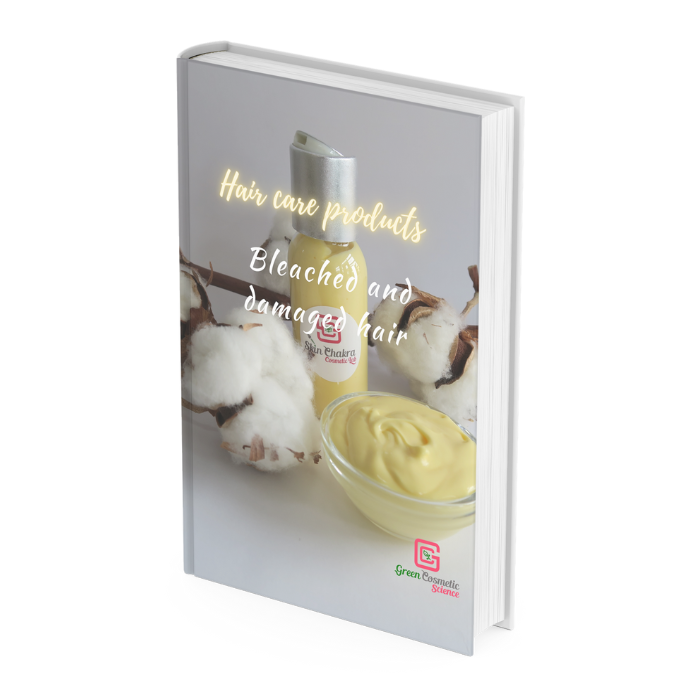 You can watch the video here
Remain unstoppable and creative