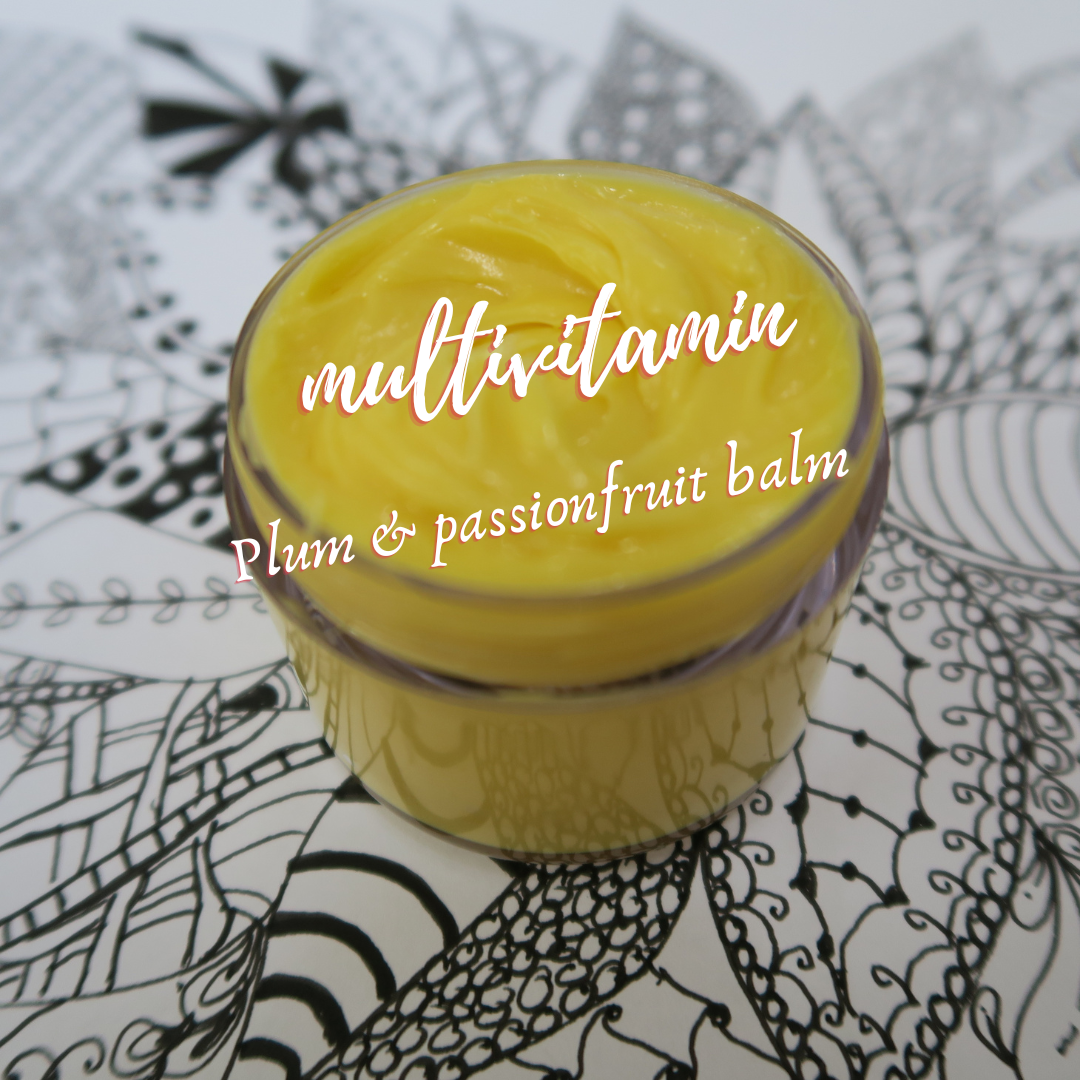 Apart from the fact that anything waterless is quite popular and sexy at the moment, balms are generally popular products during the cold season.
A few months ago we published a post about an outrageously simple but amazing balm and I promised you that it will blow your mind when you use it. My claim was confirmed by all those who have recreated this formulation.
In that formulation we used 30% of our modified rice starch which seems a lot but it imparts a very nice powdery skin feel to the balm.
In this formulation (which is not a KISS formulation in terms of the number of ingredients), we jazzed up that KISS formulation and applied other plant oils and extracts and sexy additives such as bakuchiol, pro vit D, ceramide NP, vit C. The colour comes from the carrot extract, passionfruit oil, rosehip oil. Carrot extract brings the beta-carotene which is an effective anti-oxidant, the rosehip oil has extraordinary therapeutic and collagen production promotion properties  thanks to its content of trans-retionic acid and passionfruit is rich in carotenoids, flavonoids and vitamin A.
Here again we are using a high content of the rice starch to impart a powdery skin feel. Even those individuals who do not like a "fatty" stuff over their skin will fall in love with the light skin feel of this balm. It is more suitable as a night care. You can recommend it as a day care for very dry skin or the skin exposed to cold weather and wind.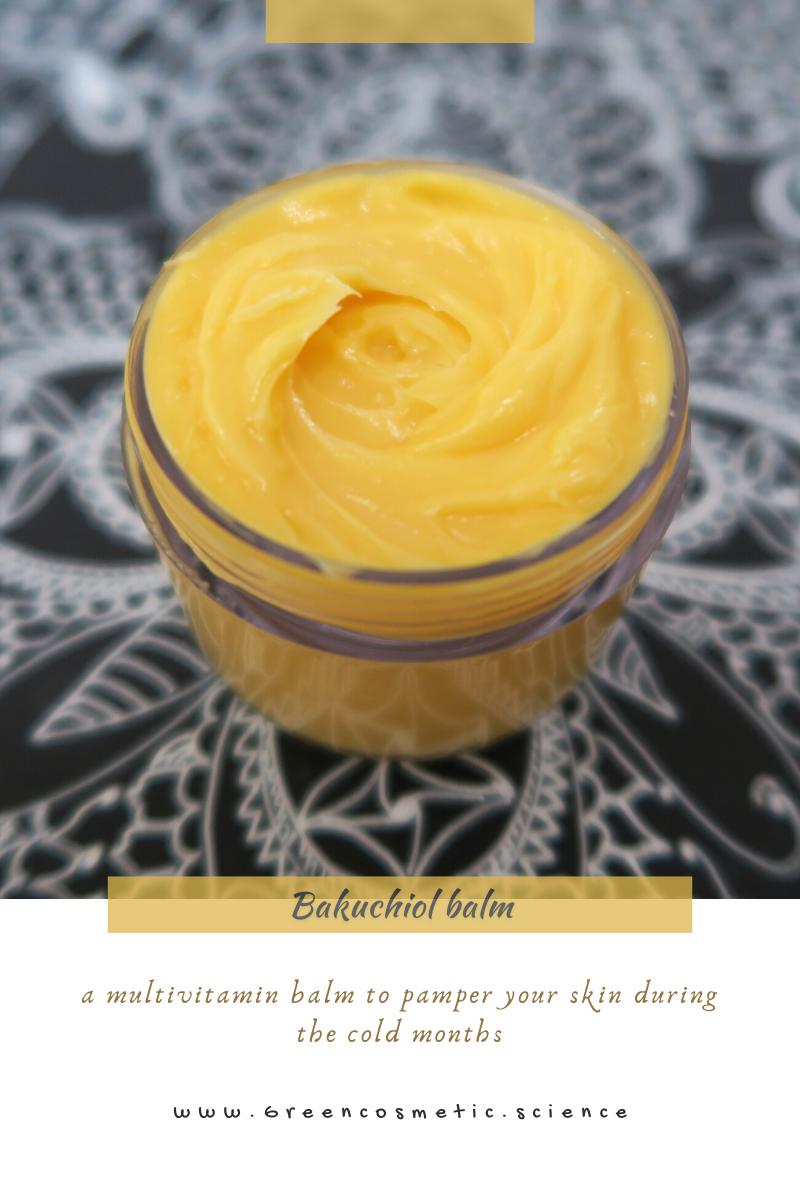 Alone the lovely colour of this balm is uplifting and shakes the gloominess of the autumn and winter from your soul.
Despite the long list of ingredients the procedure is quite easy and straightforward.
First you need to melt the butter phase. Do not overheat the butters. Keep an eye on the thermemeter and do not heat over 60 C.
Then you need to blend the melted phase and the powder phase. This might seems intimidating at the beginning and you will think: NO WAY, I can blend these two phases together. The key is "patience". Just keep stirring and don't give up.
Then you need to add the oil phase. Since we are using the ceramide NP here, we need to add this phase when the temperature is higher than 40 C. If you omit this ingredient you can add this phase at lower temperatures as well.
And at the end you will add the essential oils.
Ingredients: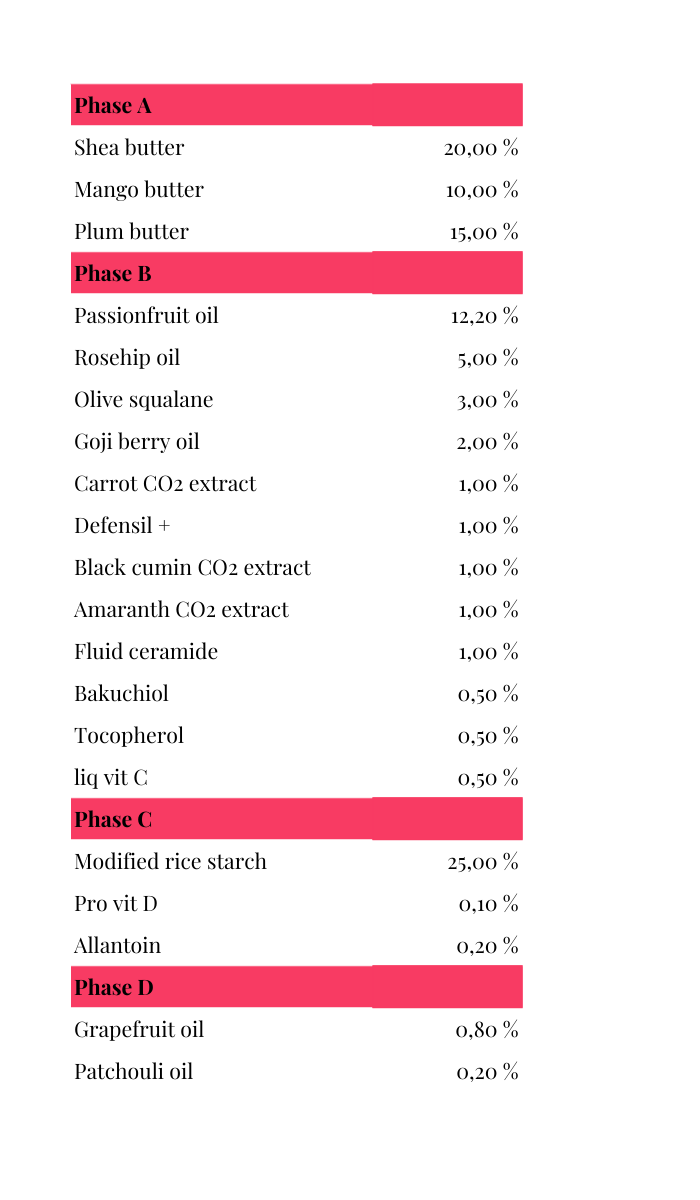 Procedure:
1- Melt phase A in a water bath @60 C
2- Sift the powder phase in a heat-proof beaker
3- Blend the melted phase A with the powder phase
4- Start cooling down while stirring
5- At a temperature between 40-50 C add phase B
6- At a temperature below 35 C add the essential oils
7- Continue cooling while stirring
8- When the balm reaches a medium trace fill in jars
Watch the video here